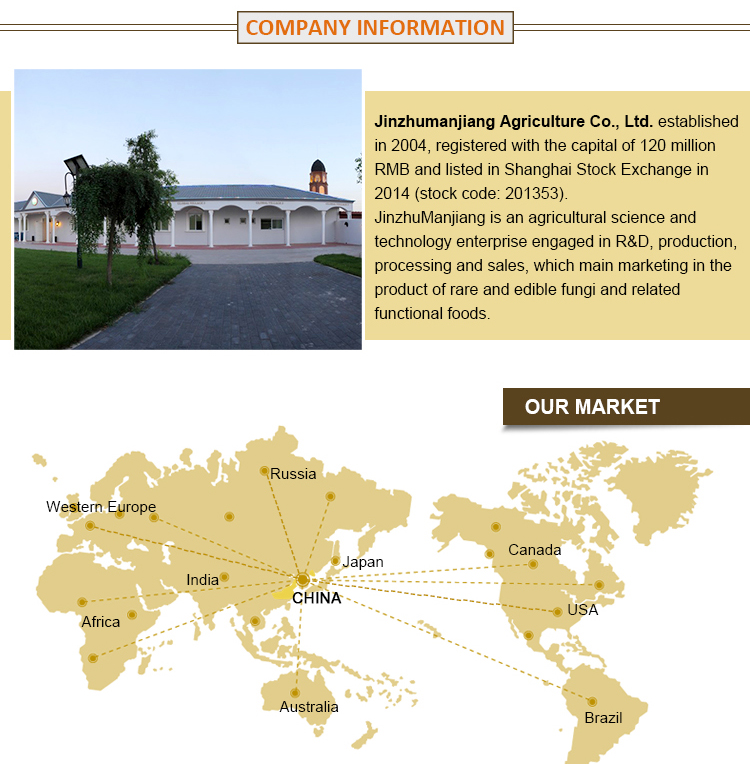 The company takes the "black Collybia albuminosa(one kind of the mushrooms)" patented  production standards as the core principle to create "SOGU" brand, independently research and develop more than 50 kinds of high-quality mushroom processing and many other products to fill gaps in the industry. Our products are deeply loved by consumers at home and abroad, and  now  have been exported to many countries and regions such as South Korea, the United States, Germany etc. We also have set up overseas sales and R & D centers in Korea TMP Co., Ltd.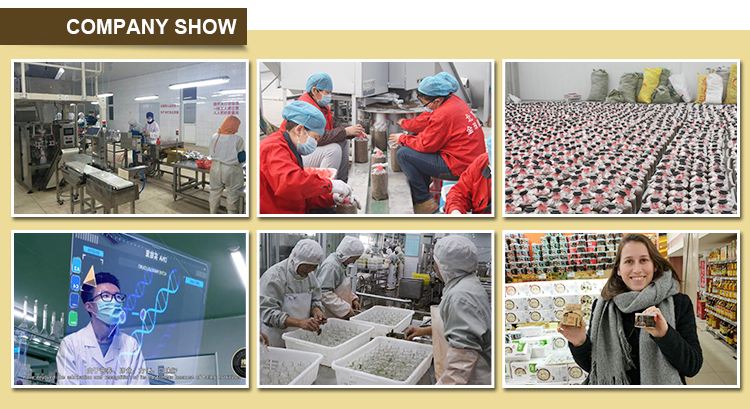 The "SOGU mushroom operating mode" of "industry + policy + finance + market" created by the company not only created an efficient agricultural miracle but also realized the social benefits of promoting the economic growth of international trade. 
Jinzhu Manjiang adhering to the consuming philosophy of "environmental, green, healthy" , not to provide the best products, while also assuming the enterprise's social responsibility and continuing to offer its best efforts to the industry and the society .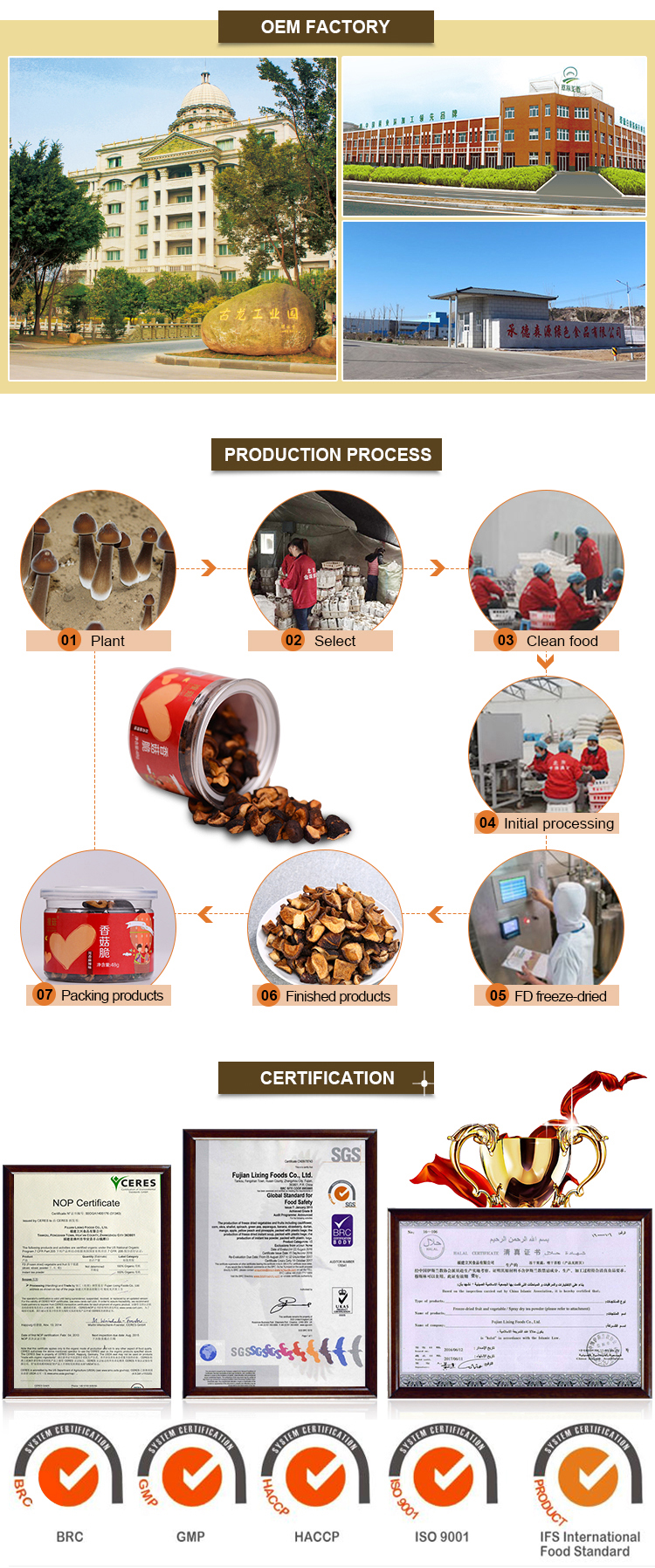 FAQ
Q1: Sample for flavor testing, available or not?
A: Samples are available according to the requirement, usually shipped after shipping fee paid by recipient. Occasional situation can be discuss as per to the special events. Any account member and add of the Express will be highly appreciated as DHL, FedEx, ups, SF or other Express account. We will send the sample for you as soon as we get the information.
Q2:Shipping dates for receiving the order?
A: A standard turnaround time (from the date of order list signing), Item will be shipped within 7 working days after order confirmation. Mainly depends on the complexity of your project. Any urgent deadline or special requirement please be free to let us know. 
Q3: Same flavored products as the received sample, available or not(same flavor as XXX brand)?
A: YES, please send your sample for us then our R&D Team will start to do the R&D to produce the similar flavor for you. Since the origin of ingredients are from different of countries, the flavor will be not 100% same as your sample. The M.O.Q. of order is requested.
Q4: Custom packaging or assembly packaging?
A: Sure, special needs, attention or a special implementation, we are gladly to help. Request the quote today and tell us your special packaging or assembly needs!
Q5: Possible owning So Good products with my own brand?
A: Please illustrate us the specification, specific packing materials and related requirement with your brand e-files. All the packing payment will be charged in advance.
Q6: How to the distributor of SO Good products?
A: We will provide all required documents for you to import our products to your country. If it is necessary for us to prohibit other buyer to sell our products in the same region, the M.O.Q. will be request and the contract duration will be 1 year.
Q7: Any other species of So Good products that can not been found on the website?
A: We do have some spices that are fewer quantity of demand. Please send the inquiry here to tell us what you are looking for then we will help you to find out.
Sample service:
1-5pcs free samples could be provided for you, and you just need to pay the express fee. 
OEM&ODM service:
(1) Produce according to your samples,forma and ingredients.
(2) Do the printing, label, logo and your own package.
(3) The Paper box can be customized according to your design.
(4)change the heating hours and temperature range according to your request
After-sale service:
Bad products could be replaced with ratio 1:1.